Basic Literacy
Reading, writing and math instruction for native English speakers who read or write below an 8th grade level.
Learners seek our Basic Literacy (BL) services due to a variety of reasons including:
previously undiagnosed learning disabilities
moving many times in elementary and high school resulting in graduating without learning to read and write well
dropping out of school to work or to care for a sick relative
Staff members conduct intake interviews and assessments and then match these learners with appropriate one-to-one tutors. Small group classes are also available to supplement individual tutoring.
Intensive Reading Remediation Program – Basic Literacy Foundations
Literacy New York Capital Region offers an intensive, innovative and highly effective program for Basic Literacy tutoring using Reading Horizons and other proven Literacy resources.
Referral to Other Adult Education Programs
If learners are not eligible for our program, or once learners test above the 8th grade reading level, they will be referred to other adult education agencies, such as those that offer vocational training or programs for individuals with learning disabilities.
Small Group Instruction
Research shows adult learners perform better in classes of 15 learners or less. Small classes are currently being offered in libraries, churches, and other community venues in our service area in reading, writing, math and GED.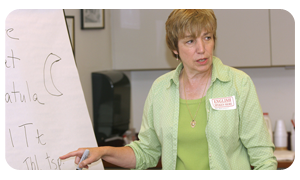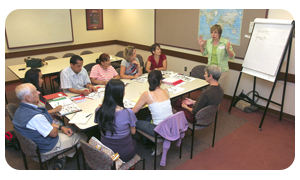 ELL – English Language Learners
Our English Language Learners (ELL) come from all over the world and represent a wide variety of cultural, social, and economic backgrounds. The educational levels of our English Language learners vary greatly.
Some of our learners have lived in our community for years, others are recent immigrants who have come for economic reasons, and still others are refugees fleeing civil wars or persecution. All of our English Language Learners seek to improve their English fluency (listening, speaking, reading and writing) in order to achieve their goals as individuals, family members, workers, and citizens.
Staff members conduct intake interviews and assessments and then match these learners with appropriate tutors. Small group classes and conversation groups are also available to supplement individual tutoring sessions or as a successful alternative to one-to-one tutoring.
Conversation Groups
ELL conversation groups are held in local libraries, churches, or other community spaces. These groups are led by experienced tutors, and they typically include adults from a variety of nations and ethnicities. Each group generates its own conversation topics and attempts to help learners gain practical knowledge and fluency in basic English, survival skills, American culture, health literacy, and family and workplace literacy.
"I am happy to have this experience because I am learning new things, such as new words and idioms. My teacher has a lot of experience and he is very intelligent. I want to learn better English to study for a GED."
Marcio, Learner